As I was belatedly catching up on reading all my favorite blogs today, I happened upon this fellow
Hedgewizard
- He was talking about suffering an emotional breakdown after his marriage broke up, and just about the time he thought he'd pulled it all back together, a song came on popular play that seemed to sum up his feelings and attach itself to that time in his life. Even today, he dares not let that song play on the car radio for fear of weeping. I'm not familiar with British music, but the link he provides is a haunting ballad by
Kate Bush
. I'd suggest closing your eyes for the video part, since it does not even closely match the music, and is in fact, jarring. But the gaelic words and music pluck a melancholy note and it is easy to see how this song might tie itself to a heartbreaking time.
Unfortunately for me, I experienced my first love and heartbreak, not in the heather scented heaths of Scotland, but in the 70's in Southern California, where the hills were alive with the sound of
Bee Gees
and
Jim Croce
and the
Eagles
. The best I can come up with is this one from
Lobo
that sums up the candy-pop era of my mostly imagined and tragically brief love affair with a James Dean-esque motorcycle jock. At least the song that tugs on my heart strings isn't a
Barry Manilow
song like Downtown Dad....
But, back to Hedgewizard. His challenge to the blogosphere in general, is this: Losing a love is like creating a window in your heart. When that window opens, so do the tear floodgates many times, just with the first notes of a particular song that touches you. I'm guessing that Hedgewizard and I are not the only ones to have such a "window in the heart" and we'd very much like to hear about the songs that open your windows. If you like the idea, then please take it as a meme and post the button below into a blog entry of your own along with a story, or at least a mention of that one song that always makes you cry.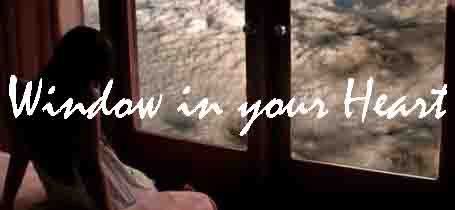 OK, if that's too deep for you - try this
impossible quiz
- it is to say the least quite impossible!